Getting a Great ACT Score has never been This Easy!
Global Student Network (GSN) is pleased to announce its partnership with Barron's ACT Online Prep program. Maximize your score with 100s of expert lesson videos, 1000s of practice questions, and our powerful adaptive learning technology.
Barron's ACT Online Prep program gives you everything you need to get a top notch ACT score. We have everything covered – from targeted practice and test taking strategies to full length tests and valuable study tips and tools.
What is the ACT Test?
The ACT is a national college admissions examination made up of subject area tests in English, mathematics, reading and science.  The ACT "with writing," includes the same four subject areas plus a 40-minute writing test.
The ACT showed up in the United States during the late 1950's. The ACT organization is based in Iowa and writes the ACT Assessment and other tests.  ACT originally meant "American College Testing," but since 1996 the acronym officially means nothing.  According to the ACT website, this is because of "ACT's diverse and evolving roles."  The ACT company is no longer a strictly American company and no longer offers only college test preparation, but also deals with test preparation and learning, in general.
Most U.S. colleges now require both the ACT and the SAT tests as part of the college application and acceptance process.
ACT: Course Features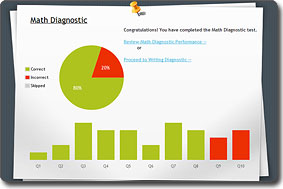 The ACT Diagnostic Test
The ACT Diagnostic Test forms the basis for ACT Prep and is a powerful computer adapted test engineered to precisely measure your complete skills profile.  The diagnostic test enables us to make detailed lesson recommendations to quickly and easily assist you in improving your overall ACT score.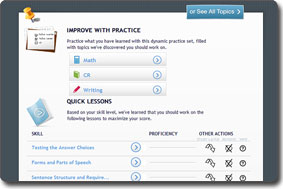 Personalized ACT Prep
Our ACT Prep course uses a flexible learning system that personalizes your course plan once you take the diagnostic test. Using the Barron's approach ensures that you focus your time and energy in learning those skills with the maximum "skill boosting" potential.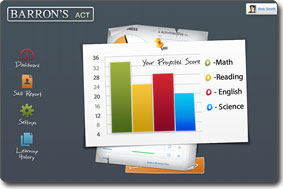 ACT Prep Dashboard
Each time you login to our Barron's ACT Prep course page, you are taken to a personalized dashboard where your up-to-date ACT Prep activity and your projected ACT score are displayed. We make it easy for you to monitor your progress and dramatically improve your ACT score.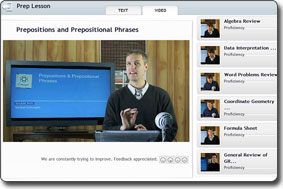 Lessons from ACT Experts
Our on-staff ACT experts teach you test taking strategies and important concepts covered in the ACT. Video and text-based lessons are provided for each concept covered in the test.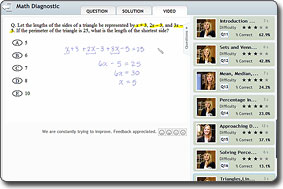 Step-by-Step Video Solutions
The Barron's ACT Prep course offers everything from 1000s of detailed, step-by-step video solutions to actual practice ACT exam problems.  Our combination of comprehensive content plus top-notch instructors adds up to the best online ACT Prep course available anywhere.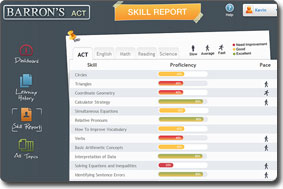 ACT Prep Reports
Our ACT prep program continuously monitors your progress and skill profile to give you the most accurate recommendations possible. Anytime you complete an exercise, practice test, or diagnostic, we will update your profile to make sure you are receiving the very best guidance. You can also use your personal dashboard Summary tab at any time to view your own progress and current skill profile.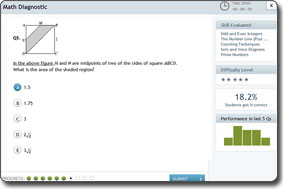 Online ACT Practice Test
Our ACT Course provides excellent practice material including access to 100s of practice quizzes, four full length ACTs and one ACT diagnostic test. The full length ACT practice test also gives you instant projected ACT scores.
Our ACT Practice Tests Include:
25 Hours of Video Lessons
50 Hours of Video Solutions
75+ Lessons
Four Full Length ACT Practice Tests
Computer Adaptive Practice Opportunities
One Diagnostic Test
3000+ Practice Questions